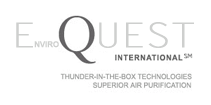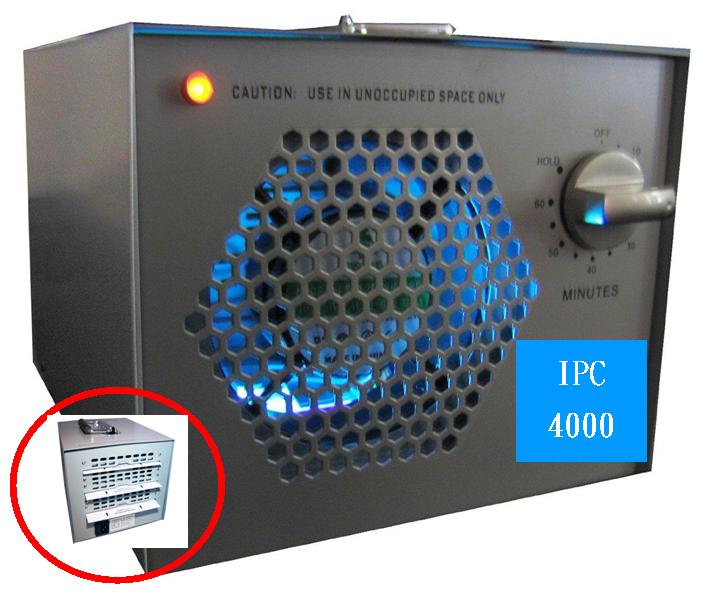 Living Lightning™ Alpine
"IPC-4000" Industrial
Power Air Cleaner
Click here for product specs
Just place IPC-4000 near the source of the problem... set coverage... and in just a few hours...
Mold, Mildew, Bacteria, Fungi, Viruses, Foul-Smelling Odors, Chemical Gases, or any other harmful indoor pollutant will be destroyed -- Guaranteed!
Eliminates severe odors and chemical gases.
Kills mold, mildew, fungi, bacteria, and viruses.
Quickly and effectively sanitizes homes and businesses with severe indoor air pollution.
Instantly improves the quality of air indoors.
Controls additional bacterial and viral growth.
Customizable to your environment using the controls on the front.
Designed specifically to sanitize.
Very heavy duty, built to handle years of commercial use.
The Living Lightning™ Alpine "IPC-4000" Industrial Power Air Cleaning System is a powerful, portable commercial application designed to quickly sanitize any indoor environment and produce fresh air, free of harmful living organisms and all odors. If your business occasionally suffers from highly polluted environment with stubborn unwanted odors that just won't go away, mold, mildew, or fungi, then IPC-4000 is the best way to go!
A good example is if you run a carpet installation, or new furniture installation, or a painting business. After such installation or painting inside your customer's home, there are usually strong odors associated with new carpet, or new furniture, or paint. Many times customers may complain about such odors or ask you what you can do about it.
To quickly oxidize such indoor air pollution in your customer's home, simply place the IPC-4000 unit in an unoccupied area near the source of the problem, set the coverage, and in less than a few hours the area will be effectively sanitized and virtually free of odors. Then just turn it off and go about your business. Your customers will be happy with good service, which in turn means referrals and more business for you!
Specifically manufactured and proven perfect for tough industrial and other business applications, the commercial strength Living Lightning™ Alpine "IPC-4000" will be a valuable asset to your business, no matter what business you're in! This great commercial product will never let you or your business down. As one of the industry's best performers, you can count on this reliable air purifier to deliver great results for many long years!
The affordable Living Lightning™ Alpine "IPC-4000" Industrial Power Air Cleaning System is one of the few tested and proven commercial air purifiers on the market offering you a true solution to a complex problem of indoor air pollution within your business. Your IPC-4000 air purifier will work quietly whenever you need it most, helping to maintain your environment pollution-free, thus allowing you, your employees, and your customers to breathe clean-crisp air! The result of breathing pollution-free air, is reduction of headaches, sinus problems, allergies, and other respiratory problems that can often be contributed to breathing contaminated air; increased employee productivity; less work time lost due to employee illness, and of course more business from happier customers. Just plug in your IPC-4000 purifier whenever you need it and sanitize the environment quickly for only pennies a day! So order it now 100% Risk-Free under our 30-Day Money-Back Guarantee!
IMPORTANT NOTE: IPC-4000 is NOT a substitute for any residential model Living Lightning™ Alpine Air purifier. While it's a very powerful commercial strength sanitizer that gets rid of odors and effectively kills mold; mildew; fungi; viruses; and bacteria, the IPC-4000 does not generate positive and negative ions, which is necessary to eliminate dust; smoke; tobacco smoke; pollen; pet dander; dead skin flakes, and other particulate suspended in the air. Instead, the IPC-4000 is designed to complement any residential Living Lightning™ Alpine Air purifier if you also want to use IPC-4000 in your own residence. Where any residential Living Lightning™ Alpine Air purifier is constantly at work 24/7 keeping the environment pollution-free, the powerful IPC-4000 is used only as needed mostly in commercial applications to quickly sanitize any environment, occasionally contaminated with high-level indoor air pollution. That's why it's designed as a portable unit mostly for different temporary business and industrial applications, as opposed to residential use that requires 24/7 full ion + activated oxygen control. If you want to use IPC-4000 in your own home and you already have a residential Living Lightning™ Alpine Air purifier then IPC-4000 most likely is not even needed, unless you have a specific application for it! Also, as far as your business... If your business is not mobile (not done in customer's home), as in the example above, and your indoor business environment has a source of constant high-level air pollution, as opposed to just occasional, it is strongly recommended that you get a more powerful commercial Living Lightning™ Alpine "LA-5000" Heavy Duty Air Purifier for 24/7 highly effective overall pollution control.
If you haven't seen it yet, watch the short online video right now to learn how the unique Living Lightning™ Alpine Air technology works, and see the many benefits it will provide you and your family with.
LIVING LIGHTNING™ ALPINE BREAK-THROUGH PROPRIETARY TECHNOLOGY
Video presentation
Click here to learn more about the unique
Living Lightning™ Alpine Air purification system
I do not need any more information I would like to

We take ALL The Risk! Take Advantage of Our 100%
Full 30-Day Money-Back Guarantee!
Remember you have full 30 days from the day you receive it to test your new air purifier and make sure it works to your complete satisfaction! We guarantee you will feel difference in the air almost instantly, and you will know your air purifier is working. Why are we offering you such a guarantee? Because we know you will love your machine and we want YOU to prove it to yourself. After all, ask yourself this question... Can thousands upon thousands of satisfied customers around the world be wrong? So take advantage of this totally Risk-Free offer today, choose any Living Lightning™ Alpine Air Purifier from those newest models available above, and place your secure order right now. You will not be disappointed!
Prices will increase!
Yes, the LOW product prices you see above will not be here forever. The current SALE eventually will end and prices will go up! This is not a matter of if, just a matter of when. While we try to keep our prices as low as possible for as long as possible, we cannot deter costs of doing business from rising, and we cannot predict volatile market conditions especially in this economic climate. So eventually, we will have to raise our prices to keep up with the costs of doing business and ever-changing market conditions. So don't put off what you can do today until tomorrow. Because tomorrow, the time-limited special offers available today may already be gone. Instead, secure your new air purifier today at these low prices and get amazing results with it tomorrow. You'll be grateful you did. After all, at the current LOW price any genuine Living Lightning™ Alpine Air Purifier represents just a small affordable investment into your family's healthy living regimen, and considering the price can (and most likely will) go up soon, today is the day to take action and not tomorrow. So please consider this fact carefully, and place your secure order right now.
Don't fall for cheap imitations or settle for outdated technology!
Please don't waste your money on useless HEPA filters or other so-called "air purifiers" sold in your local hardware store or elsewhere on the Internet. Also, don't make a mistake of thinking you can get our air purifier somewhere else. Doing any of this almost guarantees you will fall prey to an inferior product, which will surely cost you time, money, and lots of headache! This is the ONLY official website where the newest Living Lightning™ Alpine Air Purifiers are sold. For more info and how to better protect your investment, please visit consumer warning. Avoid any risk and uncertainty by placing your order now right here. You can be sure you will receive the product you want to have, and as a BONUS we'll send you a FREE GIFT ($69.95 Value!) So don't wait, and we look forward to soon adding your name to our list of many thousands of satisfied customers around the world.
"We can't live without one of these machines"
I love my air purifier. We can't live without one of these machines. Arkansas is one of the worst states for living with allergies. The Alpine Air Purifiers make living here bearable.
Here's what I like most about you guys. Most companies forget about current customers only offering deals to new or first time customers. What brought me back for a new machine is your $100 trade discount for current customers. Thanks for being so good to us. You guys have superb customer service. The electrostatic filter gift was an extra added bonus I did not expect.
Keep up the excellent customer service. We have and still do tell everyone about you guys. When we have someone new over to the house they notice the air right away. They say, wow it smells like it just rained in here. I wish everyone could have one of your machines. Especially those who suffer so greatly... even more so than us with allergies.
God bless you guys at Alpine Air.
Victoria Matos
Beebe, AR
"I absolutely love it!"
I enjoyed my alpine living air purifier for years. This was from the older series, the ecoquest air purifier. I used successfully this ecoquest fresh air purifier to remove smoke and dog smell from my home. When my fresh air by ecoquest finally gave out after 10 years of use I bought from the newest living lightning series, the alpine living air fresh air purifier LA-3500 and it works even better than the old ecoquest international machine. I absolutely love it! Thank you Alpine Air Technologies for continuing to make and improve on such a great product. I recommend you to all my friends and co-workers, and will never use another air purifier besides the alpine air purifier.
David Matthews
Chicago, IL